Recently An Old Customer From Brazil Visited Our Factory
---
With the end of our exhibition in Guangzhou, old customers from Brazil visited our factory again. Customers watched our workshop, asked technical questions about gold foil printers and so on.
A. Customers Visit The Factory
The customer first visited our factory and checked the working environment of our factory employees and the production of machines. From the pictures below, we can see that our employees have strict control over the production of the machines. Our entire production process includes machine production, machine debugging and testing, machine packaging, and machine transportation. Customers can use and buy our products with confidence.
B. The Customer Asked About The Details Of The Machine
Customers consulted our product engineers about machine operation and details, and we also gave full explanations.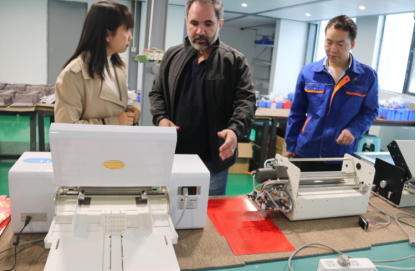 C. Customer Feedback
Customers are very satisfied with our products after visiting our factory, which also gives us full confidence to produce products that satisfy customers. At the same time, customers from different countries are also welcome to visit our factory.
Our main products include various gold foil printers, ribbon gold foil printers, silk screen platemaking machines, label printers, A4 paper thermal printers, etc. If you are interested, please leave a message to us.
Leave A Comment
Your email address will not be published. Required fields are marked *
Copyright © 2023 Henan Vodafone Digital Technology Co., Ltd
Copyright © 2023 Henan Vodafone Digital Technology Co., Ltd
SAF Coolest v1.2 设置面板
WVYSX-ZPRG-UXSQE-ZQF
SVG图标库
请自行添加图标,用div包起来,并命名使用