Disadvantages of Traditional Screen Printing Plate Making Machines
---
1. The cost of film screen plate making is high, and the printing cost is expensive;
2. The color is complicated, and once the version is finalized, it cannot be modified;
3. The process is cumbersome and the production cycle is long;
4. The cost of screen printing plate making is high, and the screen printing dots cannot be eliminated, so mass production is required to reduce costs;
5. Color deviation and positioning deviation, the picture of the finished product is also easier to scratch off, and the firmness is poor. Generally, another layer of protective film needs to be sprayed.
6. Traditional signage production generally adopts the methods of engraving + corrosion + paint filling, or laser engraving, which can only produce monochrome signs, but can't do anything for colored patterns.
7. The rejection rate of repeated overprinting is high, and the color deviation is large.
8. Skilled printing technicians with many years of experience are required.
9. More personnel are required, and the proportion of manual production is high.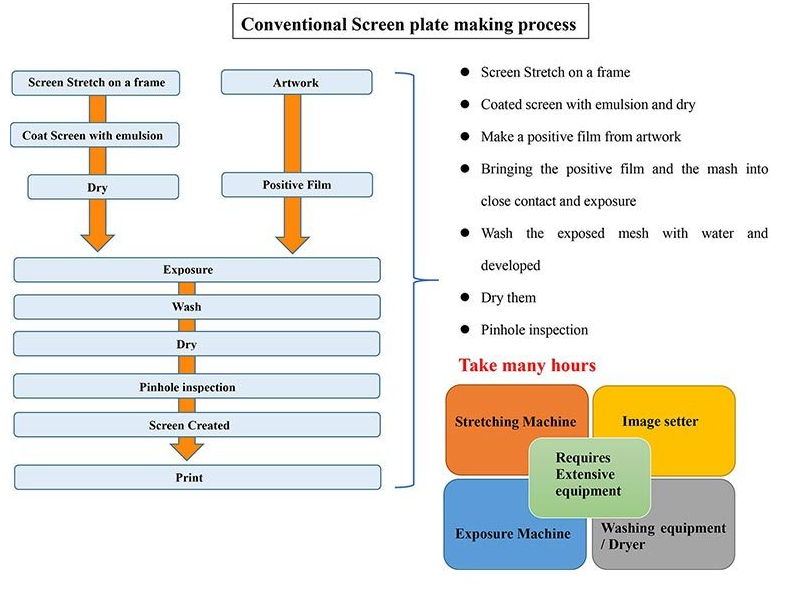 Advantages Of The New Digital Screen Plate Maker
1. It is suitable for any material and has a wide range of compatibility.
2. No need for plate making, fast printing and low cost. Various output software can be used to support various file formats.
3. Complete in one step, ready to print and take out, to meet the needs of quick sample and finished product.
4. The technological process is simple, no waste water is generated, the environment is protected, and film, washing and exposure are not required.
5. The unit price can be printed in large quantities and can be matched with template printing, saving time and effort.
6. Full-color images can be completed at one time, and the gradual color can fully achieve the effect of photo quality. The positioning is accurate and the scrap rate is zero.
7. Computer operation, realize rapid plate making, no personnel dependence, large upgrade space.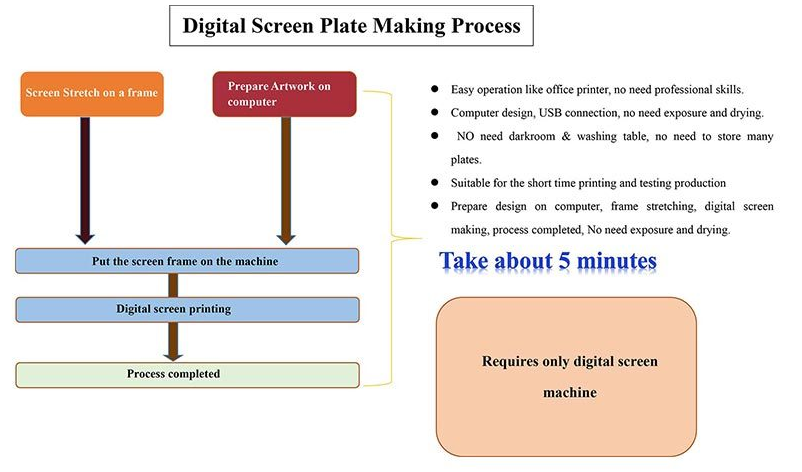 Compared with traditional photosensitive plate making, laser exposure plate making and Blu-ray plate making. Digital plate-making technology can be described as an innovation in the history of screen printing technology.
----Simpler
The process of screen plate making is greatly simplified. The traditional plate making process must use photosensitive glue and chemical preparations, but digital screen plate making does not need it, and it saves the need for scraping photosensitive glue, outputting film, exposure, drying, etc. Rinsing and other processes, which used to take several hours, now only take about ten minutes, which greatly saves time and cost. In addition, this set of equipment is very easy to use, and the process of screen plate making is as simple as using a printer.
---- More Environmentally Friendly
No waste water is generated, saving electricity. Digital screen platesetters do not use solvents and chemicals, and do not require cleaning, so there is no waste water. In addition, there are no gluing, exposure, drying, and flushing links. Greatly reduce the pollution to the environment.
-----More Economics
Compared with traditional screen printing plates, digital screen printing plates save a lot of time, labor and public resources, thereby reducing the overall cost of use. The technology does not need to be equipped with darkrooms, exposure and cleaning equipment, etc., so that it can be operated in a smaller space.
-----More Printing Resistance
Different from thermal perforation plate making machine, digital screen plate making is not limited by high or low mesh plate making, lower cost of consumables, and ultra-thousand times screen printing durability are its absolute advantages.
Leave A Comment
Your email address will not be published. Required fields are marked *